Top Message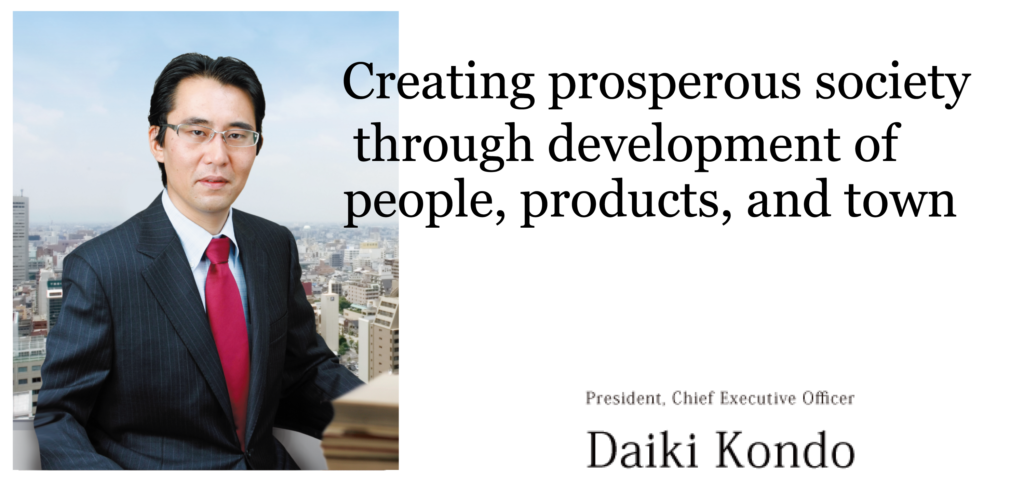 In our 100 years history, we have expanded our business according to the changes in the times and achieved a remarkable success in the apparel and the real estate business as well as the spinning business. We have also developed new markets on a global scale and established overseas branches.
In recent years, the textile industries had drastic changes such as increases in diverse consumers' needs and the reorganization of distribution channels; however, we considered these changes as business opportunities and have made a flexible business plan to make new possibilities which leads to a creative enterprise.
To develop and expand the textile industry, we believe that it is important to match the consumers' needs and technical seeds. Therefore, we are collaborating with a university and proceeding with technological development through the industry-academia joint research. We will achieve the advanced manufacturing and add the sensibility value on it.
We have an organic business network as mentioned above and can steadily propose new product's concept because we are cultivating human resources with a flexible mindset. Based on the company mission since its founding, "people are essential resource for a company," we have developed a corporate structure in which employees have ambition to learn, think, and challenge, on their own for new possibilities.
We will continue to invest in human resources and support the young generation to achieve experience and confidence. We believe this is our strength to survive in the global economy including the textile industry. KONDOBO will create a business for the affluent society which balances people, products, and town by using our superior human resources and organizational capability even in this intensifying competitive economy.
Company Overview
Company Name
Kondo Cotton Spinning Co., Ltd.
Founded
1917
President
Daiki Kondo
Headquarters
2-18-25 Marunouchi, Naka-ku, Nagoya-shi
Marunouchi KS building (own building)
TEL:(052)221-5121
FAX:(052)221-5120
Capital
100 million yen
Employees
Domestic: 500 / Overseas: 1,700
Domestic offices
・Omachi factory(Omachi city, Nagano pref.)
・Imabari local office(Imabari city, Ehime pref.)
・Apparel business Dept.
(Osaka branch/Tokyo branch)
・Hamamatsu Management office
・Sakurai Long Golf
・KS Planning Co.,Ltd
(Osaka branch/Tokyo branch/Tokushima factory/Retail business Dept. Laundry brand)
Overseas offices
Quingdao Tenghua Textiles Co., Ltd. (China)
Quingdao Kondobo Fashion Co., Ltd.(China)
Quingdao Beautiful Print Co., Ltd. (China)
KONDOBO TEXTILES VIET NAM CO.,LTD(Vietnam)
PT.KONDOBO TEXTINDO(Indonesia)
Corporate History
1917
Kondo Cotton Spinning Co., Ltd. founded
1983
Omachi factory established
1995
Quingdao Tenghua Textiles Co., Ltd. established in China

PT.KONDOBO TEXTINDO established in Indonesia
2001
PT.KONDOBO TEXTINDO
its second factory set up in Indonesia
2002
Quingdao Kondobo Fashion Co., Ltd. established in China
2003
KS Planning Co., Ltd. established
2004
Quingdao Beautiful Print Co., Ltd. established in China
2005
KONDOBO TEXTILES VIET NAM CO.,LTD established in Vietnam
2014
Own brand "Laundry" released
2015
Imabari local office opened
2016
Tokushima factory established
Real Estate business History
1987
Judiciary Center building (Washington DC) bought
1988
Aeon Gamagori opened
1991
Marunouchi KS building and KS Iseya building completed
1993
Sakurai Long Golf opened
1994
Nagoya KS building completed
1998
Favor Shirakabe completed
2002
Kanayama KS building completed
2003
First Sawakami KS building and Second Sawakami KS building completed
2005
Aeon Mall Hamamatsu Ichino opened
2007
Aisai Plaza opened in Aisai city
2008
Aeon Mall Hamamatsu Ichino floor areas extended
2010
Toyota KS Logi station bought
2011
Kanazawa KS building bought
Fushimi KS building completed
2012
Hiroshima KS building bought
The U.S. Mint Headquarters building (Washington DC) bought
2014
Sasebo KS building bought
2015
Sendai KS building bought
2017
Roppongi Green Building bought
Office Information
Office Name
Omachi factory
Business
Manufacturing of regular cotton yarns and newly developed yarns
Address
6685-12 Tokiwa, Omachi-shi, Nagano-ken 398-0004
Contact
TEL:0261-23-3511
FAX:0261-23-3516
Office Name
Imabari local office
Business
Planning and Sales of raw yarns for towel
Address
5-9-11 Higashimura, Imabari-shi, Ehime-ken 799-1506
Contact
TEL:070-1277-9885
FAX:0898-35-5017
Office Name
Apparel business Dept.
Business
Wholesales / Import and Sales of children's and women's clothes, sports apparel, and OEM products
Address
Contact

【Osaka branch】
4-6-7 Honmachi, Chuo-ku, Osaka-shi
Honmachi Square Building 10F 541-0053
TEL:06-7711-4121
FAX:06-6271-0117

【Tokyo branch】
2-14-1 Kamiuma, Setagaya-ku, Tokyo
Yokomizo building 2F 154-0011
TEL:03-5779-6118
FAX:03-5779-8673
Office Name
Hamamatsu Management Office
Business
Real estate management / Cleaning / Maintenance
Address
1981-29 Tennocho, Higashi-ku, Hamamatsu-shi, Shizuoka-ken 435-0052
Contact
TEL:053-411-4515
FAX:053-411-4516
Office Name
Sakurai Long Golf
Business
Golf practice facility
Address
Hannuki 1-8 Sakuraicho, Anjo-shi, Aichi-ken 444-1154
Contact
TEL:0566-99-6255
FAX:0566-99-0875
Group Company
Company Name
KS Planning Co., Ltd.
Business
Retail business / Import and Sales of children's and women's clothes, sports apparel, and OEM products
Headquarters
【Headquarters】
2-18-25 Marunouchi, Naka-ku, Nagoya-shi 460-0002

TEL:052-221-5121
FAX:052-221-5100
Apparel business Dept.
【Osaka branch】
4-6-7 Honmachi, Chuo-ku, Osaka-shi
Honmachi Square Building 10F 541-0053
TEL:06-7711-4121
FAX:06-6271-0117

【Tokyo branch】
2-14-1 Kamiuma, Setagaya-ku, Tokyo
Yokomizo building 2F 154-0011
TEL:03-5779-6118
FAX:03-5779-8673

【Tokushima Factory】(sewing factory)
174 Shouzuiaza Seicho, Aizumi-cho, Itano-gun, Tokushima-ken
771-1272
TEL:088-641-1711
FAX:088-641-2220
Retail business Dept. (Laundry brand)
【Office】
2-14-1 Kamiuma, Setagaya-ku, Tokyo
Yokomizo building 2F 154-0011
TEL:03-5779-8671
FAX:03-5779-8673

【Store】
Expanding at Shopping malls and department stores in Japan
Overseas Offices
Office Name
Quingdao Tenghua Textiles Co., Ltd.
Business
Knitting and Dyeing
Address
Chongqing north road 219 Qingdao, 266108, CHINA
Contact
TEL:86-532-8490-9870
FAX:86-532-8490-9882
Office Name
Quingdao Kondobo Fashion Co., Ltd.
Business
Sewing
Address
Chongqing north road 219 Qingdao, 266108, CHINA
Contact
TEL:86-532-6691-3388
FAX:86-532-6691-3399
Office Name
Quingdao Beautiful Print Co., Ltd.
Business
Printing
Address
West head of xianshan road at liuting area Qingdao, 266108, CHINA
Contact
TEL:86-532-8493-8308
FAX:86-532-8493-8378
Office Name
P.T.KONDOBO TEXTINDO
Business
Spinning
Jakarta office
SummitmasⅠ Building, 10th Floor JL. Jend. Sudirman Kav. 61-62 Jakarta, 12190, INDONESIA
TEL:62-21-252-6971
FAX:62-21-252-6975
Subang factory
Kamp.Cibeunying Rt.24/06 Desa Cipeundeuy Kec. Cipeundeuy, Subang, Jawa Barat, 41271, INDONESIA
TEL:62-260-749-5105
FAX:62-260-749-5117
Office Name
KONDO TEXTILES VIET NAM CO.,LTD
Business
Spinning
Ho Chi Minh office
Unit 1705, Saigon Trade Center 37, Ton Duc Thang Street., District 1 HCMC, VIET NAM
TEL:84-283-911-1152
FAX:84-283-911-1154
Mihokku factory
N6 Street, My Phuoc 1 Industrial Park, Ben Cat, Binh Duong,
VIET NAM
TEL:84-2743-567-507
FAX:84-2743-567-506