"Product-out" strategy has been outdated, and now the market is moving further from "market-in" to "customer-centric." To answer the customers' requests, we have a variety of tasks in the Apparel business Dept.
There are OEM productions for other apparel brands, ODM production creates new product's designs and markets them, and original developed products that takes advantage of our spinning function. By utilizing our lines of products, we are aiming to establish a new business model.


"Creative team with flexible mindset

We are a creative team with flexible mindset, and can realize customers' needs without being constrained by conventional ideas. Our creative team which consists of designers and patterners, shares the customers' needs with the sales department, and provide them with special products beyond the customers' expectations in designs, materials, and features.
Sincere response as a spinning manufacturer

We take advantage of developing yarns, give feedback from the apparel makers to our spinning division, and propose a new material which answers to the detail needs, as a result, we have expanded our market.
A system to enhance our specialty

Our main production base is located in Quingdao, China, there we produce cut-and-sewn products mainly for department store brands. We sew and inspect every product just like in Japan. We have our own factory and a cooperative factory in Japan which handle all requests from department stores for "Made in Japan" products.
Additional values required by customers

Our apparel products are supported by wide range of customers such as famous children's clothing brands, women's clothing, nighty, and sport brands. We manufacture products from the view point of Japanese people. At our factories, we provide stable supply through our manufacturing process which includes yarn, fabric, printing, and sewing, from the beginning to its completion.
Connecting our abilities
The Apparel business Dept.'s task is to give shapes to the manufacturing "seeds" received from the Fiber & Textiles Development Dept. New shapes are developed from the link of ideas.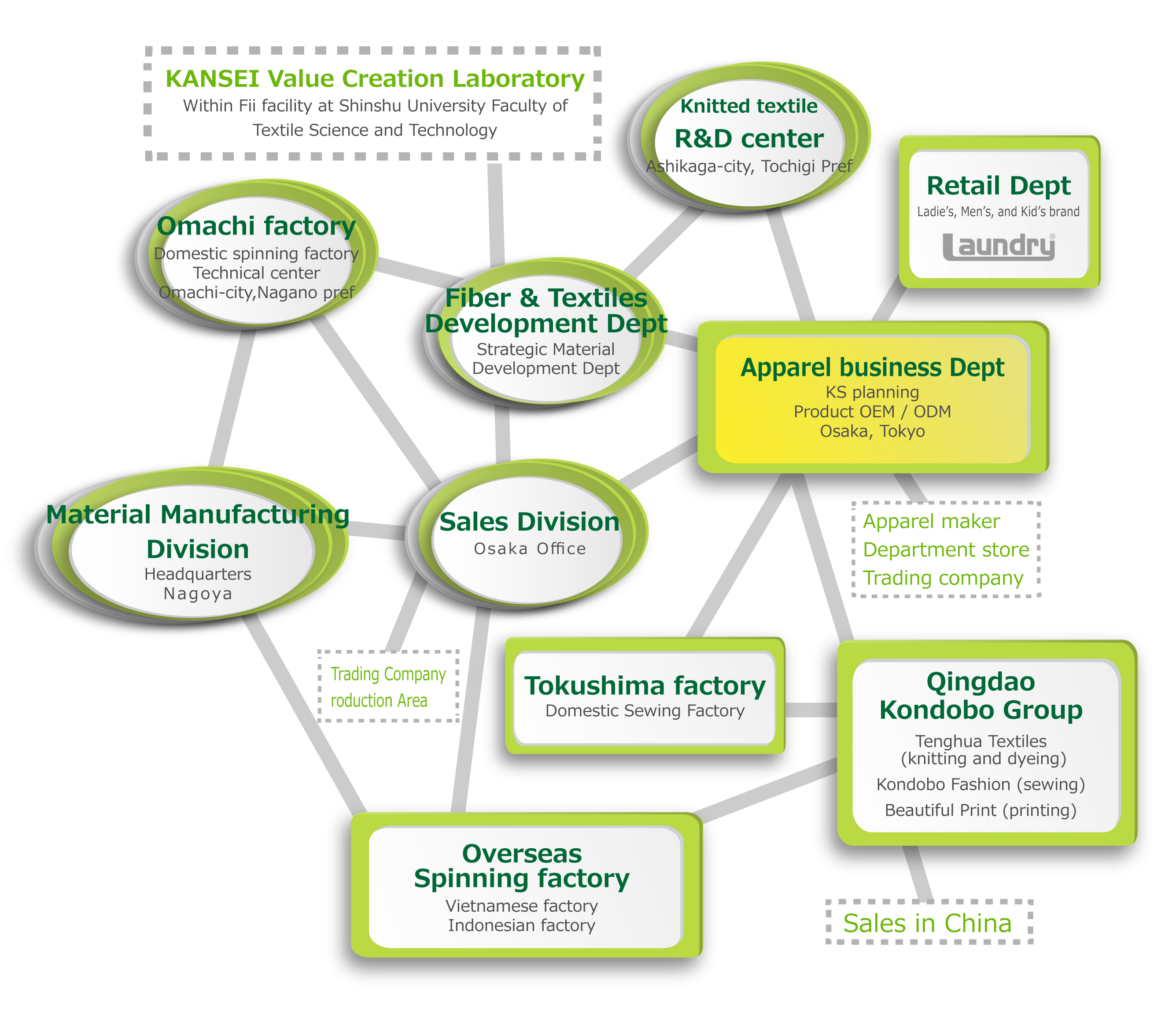 There are several offices in Japan and other countries, and each department is specialized for specific businesses. Through yarns, fabric, and products… We share information that each department has, so that we can analyze it ourselves and apply the ideas from diverse points of view. This is KONDOBO's new style which helps us create efficient products.